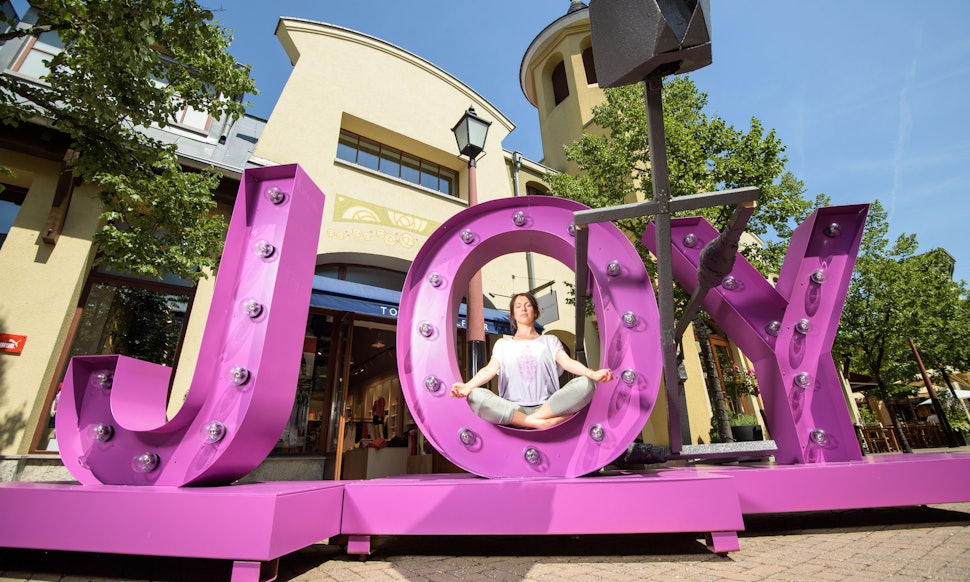 Thomas Lohnes/Getty Images Entertainment/Getty Images
If you're not stressed out on the regular, you are one of the lucky ones. A new report from Everyday Health found that 68 percent of millennial women put themselves last, and the holidays only add to feelings of stress and overwhelm. If need a little zen, meditations to help you destress during the holidays can give you the gift of making yourself a priority. Despite the growing body of evidence that meditation is a miracle worker, the report found that only 8 percent of millennials employ it as a destressing tool.
Um, guilty. Even though I know meditation works — I did a 30-day meditation challenge last November and it helped me immensely — I don't always turn to it in times of stress. If you've never tried meditation, or you've been neglecting your meditation practice, consider using this 100-percent free tool to feel less bajiggity during the holidays
Johns Hopkins Medicine published an article that explained that the holidays bring as much stress as they do joy. And as if the regular stress of the holidays weren't bad enough, Mercury retrograde has decided to join the party. Meditation can help reduce this stress and multiply the joy so your holiday season can be merry and bright instead of dark and twisty. If you're ready to feel more relaxed, try these meditations to destress during the holidays.
1. 

Mindfulness Meditation
If the thoughts in your head sound like an angry mob trying to get through security at the airport, mindfulness meditation can help your brain calm down. Neda Gould, Ph.D., clinical psychologist and director of the Johns Hopkins Mindfulness Program at the Johns Hopkins University School of Medicine, shared on the school's website how mindfulness can be beneficial for the overactive brain.
"Mindfulness is bringing your attention to the present moment with an element of nonjudgment and acceptance. It is noticing when we get caught up in thoughts about the past or the future, and returning our attention to the present — the only reality." The great thing about this meditation is that it doesn't require you to clear your head. Instead it allows you to acknowledge your thoughts while refocusing your energy and releasing tension. Want to give it a try? You can find guided mindfulness meditations on a number of apps for free.
2. 

60-Second Meditation For A Quiet Mind

Live Sonima on YouTube

The great thing about this meditation from Live Sonima's holistic health expert Lisa Hedley is that it's just one minute long. This means you can turn to it over and over any time you need to hit the reset button during the holidays. You can even do it in the bathroom to clear your head when your family is driving you bananas.

"The primary tool for grace under pressure is breathing. It's guaranteed to change the mind, nourish the system with oxygen, and switch it all up," Hedley explained on Live Sonima's website. "It's quick, simple, and effective. Thirty seconds of fast, deep breathing followed by thirty seconds of slow, deep breathing."
3. 

Intention Setting Meditation

Heidi Hanna on YouTube

OK, I think we can all agree that most people don't go into the holiday season with the intention of making it as stressful as possible. If you're feeling beyond stressed, taking some time to meditate on what your intentions are can help bring awareness to what you want to cultivate. It can also summon compassion for others who are struggling during the holidays. It's important to remember that someone else's bad mood is rarely about you. The less you take things personally, the happier you'll be.
4. 

Animal Wisdom Meditation

cara gubbins on YouTube

Animals are really good at living in the moment. Humans, not so much. If you want to absorb some good animal energy, Dr. Cara Gubbins has a holiday stress relief meditation that instructs you to breathe in wisdom from different animals.
5. 

Meditation To Relieve Family Stress

Sarah Anma on YouTube

Going home for the holidays seems to be synonymous with stress. So much so that almost all holiday-themed movies are centered around this topic. Relationship coach Sarah Anma has a meditation specifically designed to release the stress from your body that's associated with going home.
6. 

Sedona Release Method Meditation

Dexter and Alessandrina on YouTube

This meditation from authors and holistic life coaches Dexter and Alessandrina Dorer employs intention, visualization, and the Sedona Release Method, which is a tool that helps you let go of negative emotions. "Holidays are a celebration and an opportunity to come together and share precious times with those we love," the couple noted on their YouTube page. "Use this meditation to release whatever is preventing you from living deeply meaningful moments with your loved ones."
7. 

Emotional Freedom Technique

Dr. Kim D'Eramo on YouTube

The emotional freedom technique, more commonly known as EFT tapping, can help reduce tension in both the body and mind. In this meditation, Dr. Kim D'Eramo shares some EFT tapping techniques to reverse holiday stress. The best part is that you don't have to excuse yourself from dinner to do this, You can tap right at the table.
8. 

Gratitude Practice

The Mindful Movement on YouTube

It can be difficult to feel grateful when it seems like the world is falling down around you. This is particularly true when you're under stress. However, taking just a few minutes a day to practice gratitude can shift your thoughts, perception, and actually reduce stress. If you want to get started, this short gratitude meditation from The Mindful Movement can help you transform negative thought patterns.

If you think meditation is too new age-y for you, but you've tried everything else to calm down, you have nothing to lose by trying one of these holiday destressing meditations. Make them your secret weapon this holiday season so you can spread some joy to others. After all, that's really the best gift you can give to yourself and everyone around you.

–Brandi Neal at bustle.com